Becoming: A digital zine
illustration | comic | research | essay

Becoming is an interactive digital zine focused around the Asian American experience. Much of my ideation for this project stems from my reaction to March 2021 Atlanta shootings, overall sociopolitical atmosphere since the start of the pandemic, and self reflections done during the time. This zine consists of illustrations, essays, comics, curated articles, and more. It is rooted in historical and sociopolitical topics important to me, stories about my own experiences, and the community surrounding me.




Check it out on desktop or a tablet. Site may take 10 seconds to load.








Layout


The home page is a grid system consisting of 9 boxes that allows viewers to experience the zine non-linearly. Click on a box to dive into a comic, essay, illustration, or curated article.
This layout was inpsired by the women of Gee's Bend, quiltmakers who weaved generations of stories into their work.



This allowed me to consider the different ways stories could be told:

Stories can be histories learned → stories families and ancestors passed down to us.


Stories can come from our own experiences → what we have lived through and what we have come to learn.
Precedent

Zines such as Gentle Oriental's We Are Still Here and LA's Little Tokyo community archive, Takachizu, have greatly influenced the making of this zine.
These zines gathered personal stories in heartfelt way that inspired me to include my own personal narratives.
Below is a comic about my relationship with both my family and own my own identity as a mixed race person.

Use the arrows to navigate through the comic below.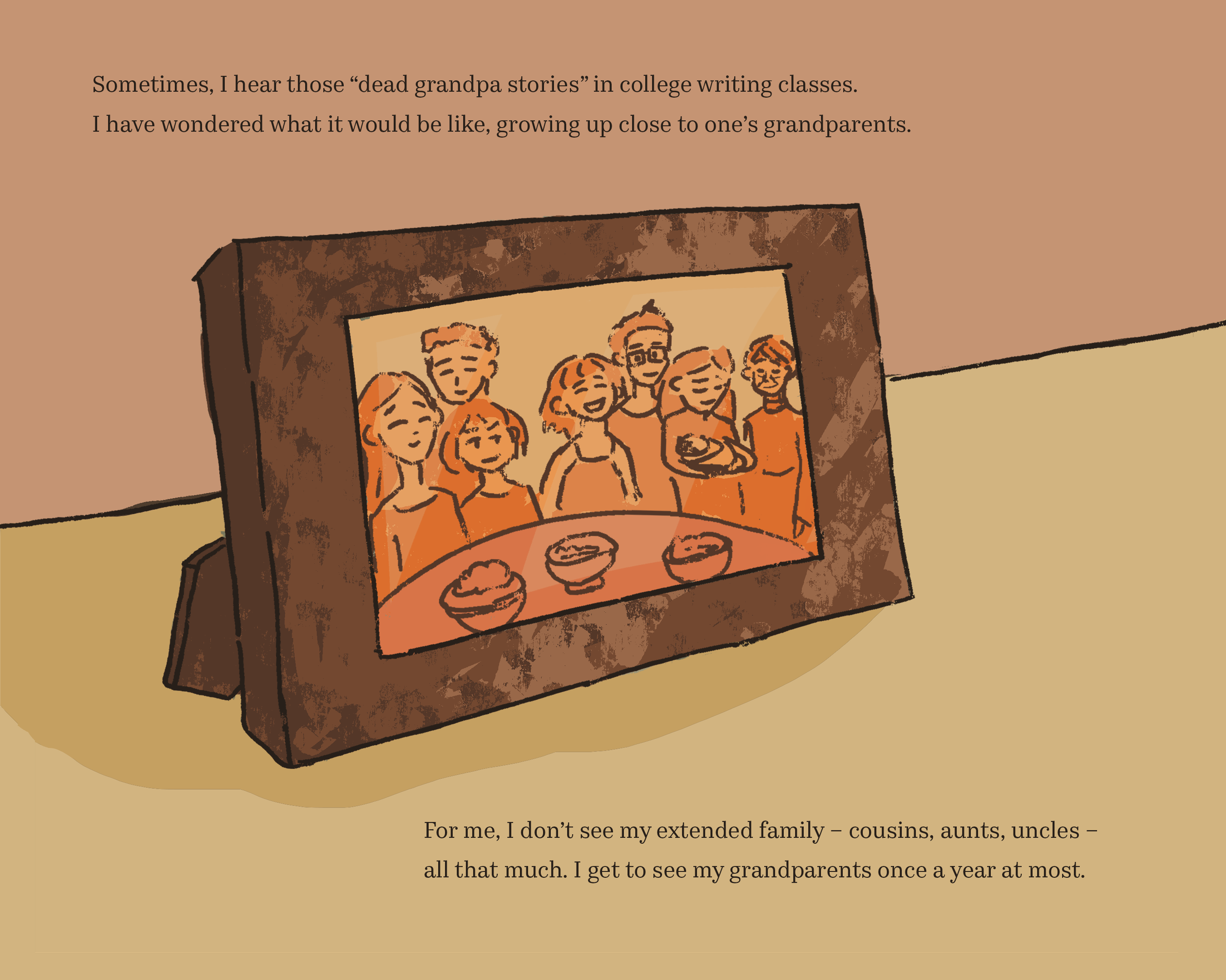 Curated Articles, Research + Writing
Not your model minority is a personal essay on being Asian in America that works to debunk the model minority myth. I typeset the copy and formatted it into multiple slides of text. With this, I aimed to make information more digestable for the masses outside of an academic setting.


Check it out below.
Linked below are resourcs that help serve as a backbone to my project.


Illustration and Identity


Lastly, illustration paired with short bits of writing was one of my favorite ways to communicate my complex feelings on identity.

With the combination of illustration and text, I can communicate an idea better than I ever could with just solely type or image.


Click through one set of images here.






"so it was decided for me, this american dream"